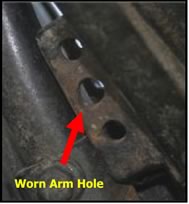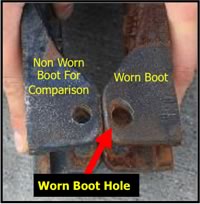 Factory and after-market 60/90 series seed boots all mount to the opener arm directly using a 7/16" bolt. But, as acres accumulate on the drills and air-seeders, the holes in the opener arm lugs (where the boots mount to) become egg shaped as illustrated right. These egg shaped holes in the opener arm, in addition to holes in the boot (illustrated right) and wear around the bolts are the three causes of unwanted up/down movement of the seed boot. This up/down travel changes the trajectory of the seed flow and often results in too many seeds deposited on top of the ground.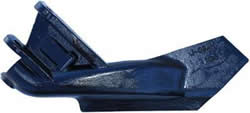 Following at least 5 years of testing and development, our extended wear seed boots now incorporate modified mounting lugs to incorporate our patented seed boot bushings. Our extended wear seed boots come pre-drilled for the bushings, so all you have to do is insert the bushings into the seed boot, align the seed boot against the disc and finally torque the nut on the grade 9 - 7/16" bolt (supplied). The seed boot then pivots towards and away from the disc on the seed boot bushings which are pulled tight against the opener arm. No drilling required!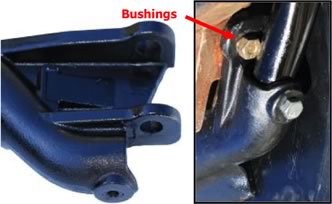 The Needham Ag extended wear seed boots are specially modified to accommodate the patented seed boot bushings (illustrated above).
NA90L - replaces John Deere part number N284045 or N284025
NA90R - replaces John Deere part number N284044 or N284024