The Problem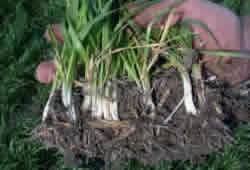 Many producers across the Northern Plains and other areas are forced to seed their crops (such as spring wheat) in higher than ideal soil moisture conditions. If the crop must be planted into such conditions, sidewall compaction commonly results - especially in higher clay content soils. The photo to the left illustrates sidewall compaction, which can be easily identified as a flat appearance of the wheat roots and the shiny furrow walls.
The Solution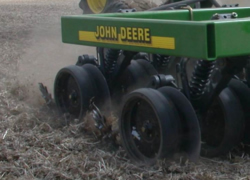 Martin Spiked Closing wheels can be added to John Deere and Case IH single disc seeders to loosen the sidewall compaction caused by the smearing action of a disc opener in higher soil moisture conditions. Martin Spiked Closing Wheels also lightly till the soil surface above the seed slot to facilitate faster soil warming, which is very important in northern climates.
Another modification that will reduce sidewall compaction and enhance the performance of the Martin Spiked Closing Wheels is the Reduced Inner Diameter Gauge Wheels.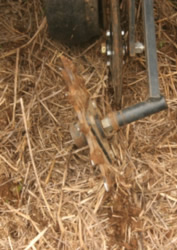 A Reduced Inner Diameter Gauge Wheel fitted to a John Deere 750 drill, closely followed by a Needham Ag Technologies V6 Seed Firming Wheel, finally followed by a Martin Spiked Closing Wheel. The ideal combination for higher moisture seeding conditions.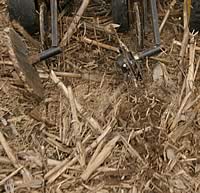 A standard John Deere Cast closing wheel (left) did very little to close the seed slot when no-tilling wheat into corn stalks in damp soils. By comparison the Martin 13" spiked closing wheel (right) did an excellent job closing the seed slot in addition to lightly tilling the seed zone to accelerate soil warming and improve emergence. Closing the seed slot consistently is critical for uniform emergence in addition to maximizing winter hardiness, especially when no-tilling winter cereals across the Central and Northern Plains. Any open seed slots can cause cold temperatures to descend down around the crown roots, resulting in stand losses.