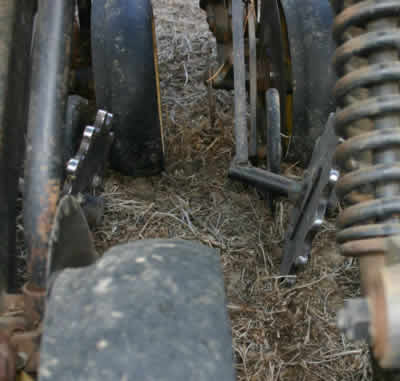 Reduced Inner Diameter Gauge Wheel Tires are standard on Case IH SDX seeders and they can be installed on the wheel halves of John Deere single disc seeders. Reduced Inner Diameter Gauge Wheels allow the soil which is normally pushed sideways with single disc openers, to expand upwards into the relief within the Reduced Inner Diameter Gauge Wheel Tire profile. They perform best in higher moisture soils where sidewall compaction is a problem. When switching to a Reduced Inner Diameter Gauge Wheel,
the fitting of a improved firming wheel (Such as the V8)
is also recommended to push the seeds more effectively into the bottom of the seed slot. Reduced Inner Diameter Gauge Wheels also enhance the performance of both Martin Spike Closing Wheels and Martin Dimple Wheels by giving both closing systems a ridge of loosened soil next to the furrow, to crumble and use to better close the seed slot.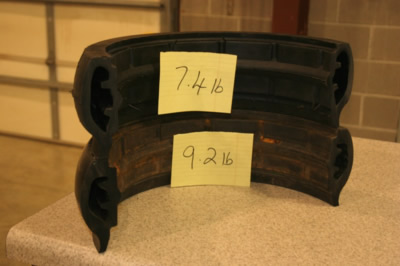 Different styles of Reduced Inner Diameter Tires are available. The image to the left illustrates a cross section of two different styles and their respective weights. Although the brand which uses the thicker and heavier material may last slightly longer, the lighter more flexible version (on top) will follow the contours of the ground better, produce less unit bounce, plus reduce the amount of soil which adheres to the tire as a result of improved tire flexing.
The only situations where Reduced Inner Diameter Gauge Wheels may not perform as well as a standard/flat profile gauge wheel tire include higher clay content soils with minimal surface residue and conventionally tilled high clay content soils which have crusted following heavy rain. In either of these examples, if the soil surface crusts - then it may fracture when the disc opener tries to cut through it. In these situations the Reduced Inner Diameter Gauge Wheels may not be able to hold all of the soil from moving sideways. This loss of soil control typically results in some seeds in the seed slot being visible from the soil surface, because the soil required to close the slot was moved sideways, beyond the reach of the following closing wheel.